AC to DC Power Conversion - Capacitive Bleed
Transformer-less Power Supply for Microprocessor Based Mains Projects
Some time ago a friend I of mine asked If I could fix his Martec remote controlled fan. I said they are cheap now but apparently they are not common with an IR remote. I said I would have a look and this resulted in the circuit you see.
At this point I must stress that this circuit is LIVE and could KILL you when plugged into 240VAC. Although the processor itself runs off only 5V the entire circuit is referenced to Active 240VAC and is as such LIVE / deadly. This configuration is not for the beginner and a sound knowledge of mains electricity is required before even touching such things. LIVE projects are for experienced people and a mistake will result in either a bad shock, death or a big bang and a lot of smoke. I do not recommend anyone recreating the circuit as it represents what was done more than what should be done. As usual, and especially with this one, any pain damage death or injury is not my responsibility. I said don't do it, I know I wouldn't.
At first I was a little bewildered and double checked to see if I got the circuit right, apparently I did A little research on the net revealed some reference to the configuration as a "Transformer-less Power Supply". A low voltage rail supplying up to around 30mA is possible without transformers or complex switchmode designs. This is adequate for most microcontroller circuits to happily run off.
At a best guess this is how it seems to work:
The 1 uF capacitor acts as a bleeder and lets through a small amount of AC, this is then half wave rectified by D2 & D3.
The 47 ohm resistor is to prevent start-up surge current. This was the problem in my case as it was open circuit and a little burnt. This is no doubt the result of break-over where dust or whatever results in a build-up which allows the 240VAC to flash over the top of the resistor. Once this happens a carbon trail is left which gets really hot really quick and the resistor dies.
D4, a 5.6Volt zener diode, then regulates what's left to 5.6 Volts with minor filtering by C4, I think the 10K resistor across it is a minimum load.
The positive side of this 5V rail is referenced to the Active 240VAC and the triacs.
The result allows the microcontroller to switch the triacs on and thus drive 240VAC loads.
The simplicity of the design was intriguing if somewhat dodgy and dangerous. Remember this was a commercial 240VAC appliance made in China. Nevertheless I replaced the resistor with some handy carbon types available and as far as I know it still lives.
The circuit was designed primarily for 240VAC operation however I cant see any reason why it wouldn't work from 120VAC The principal of this design could be used to power a PIC mains based project however double insulation between all switch contacts is mandatory. Also there can be no leads attaching anything you can touch without appropriate isolation devices in place, infra red is not a problem. Careful design consideration must be used if contemplating such a configuration. Having said that the bonus is a design that uses virtually no power and emits little heat, also there are very few parts.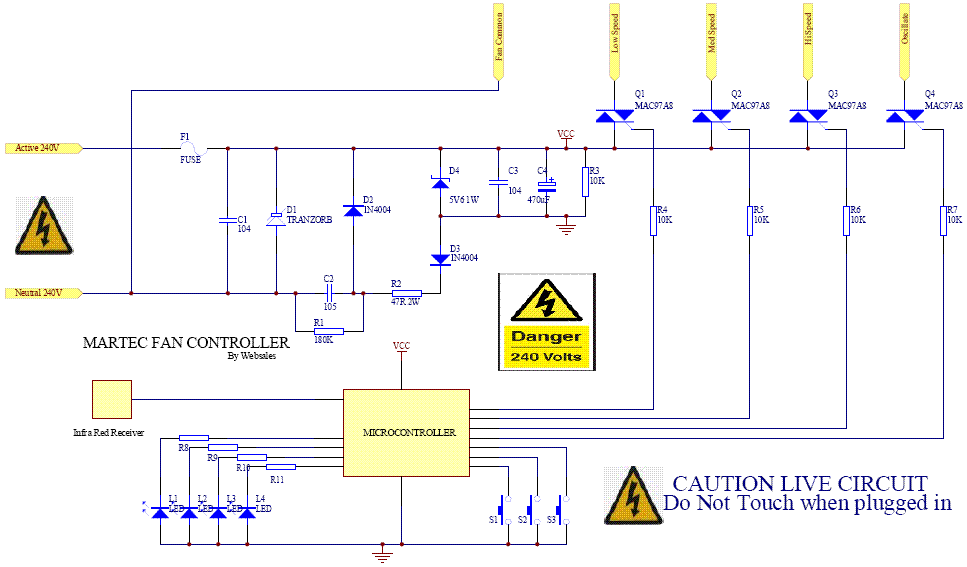 See also:
---
file: /Techref/power/ACcapbleed.htm,

4KB,

, updated: 2014/10/8 19:15, local time: 2023/9/27 08:28,
---
©2023 These pages are served without commercial sponsorship. (No popup ads, etc...).Bandwidth abuse increases hosting cost forcing sponsorship or shutdown. This server aggressively defends against automated copying for any reason including offline viewing, duplication, etc... Please respect this requirement and DO NOT RIP THIS SITE. Questions?
<A HREF="http://www.massmind.org/Techref/power/ACcapbleed.htm"> AC to DC Power Conversion, Transformerless, Capacitive Bleed</A>
---
Did you find what you needed?
---
| | |
| --- | --- |
| | Welcome to www.massmind.org! |
.