A simple RF Transmitter for digital data
From David Huisman
Loop dimensions given are for 303.8 Mhz. The antenna is a printed track that is 3mm wide and occupies a square with side lengths of 25mm. Keep the component lead lengths as short as possible. Single sided PCB works fine (there must be no earth plane under the loop antenna). The resonators can be obtained from RFM (www.rfm.com) and are available in surface mount or conventional packaging.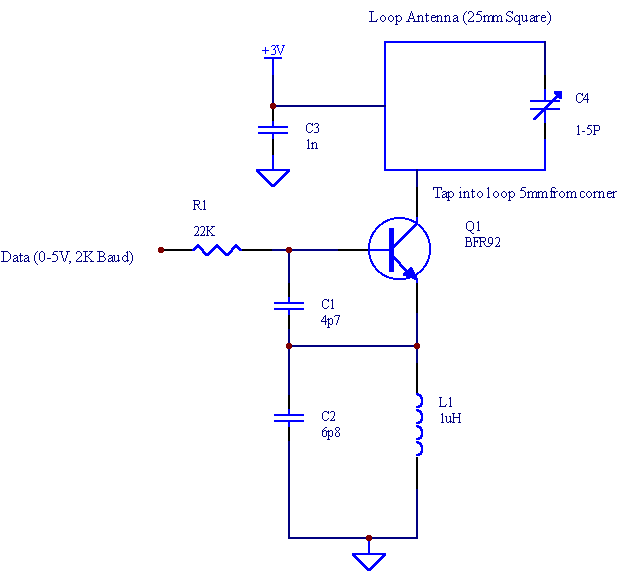 Questions:
spamgmhrn3 at SPAMyahoo.com asks: " could you please describe the circuit for me?" +
spamgmhrn3 at SPAMyahoo.com asks: " can we use other than the loop antenna shown in the tx circuit diagram shown above ?" +
what is the purpose of C4 James Newton replies: It combines with the inductance of the loop antenna to form a tank circuit.+
Nice circuit, but where is the resonator placed in the circuit. Also is there a matching receiver circuit available?
Thanks James Newton replies: It's a CW transmitter so ANY am reciever will pick it up. +
jehiel amoguis cansancio replies: Can you pls show the receiver circuit?+
Comments:
spamdiegoalejandroperg at SPAMyahoo.com.ar

Hello all. My name is Diego and i'm from Argentina.
I'm working in a RTTY encode proyect based on a PIC 16F84A.
I searching someone who has programmed PSK31. Just to exchange ideas.

+
---
file: /Techref/io/rf/simpletx.htm,

3KB,

, updated: 2009/1/20 16:44, local time: 2023/9/22 22:41,
---
©2023 These pages are served without commercial sponsorship. (No popup ads, etc...).Bandwidth abuse increases hosting cost forcing sponsorship or shutdown. This server aggressively defends against automated copying for any reason including offline viewing, duplication, etc... Please respect this requirement and DO NOT RIP THIS SITE. Questions?
<A HREF="http://www.massmind.org/techref/io/rf/simpletx.htm"> Radio Frequency IO - A simple RF Transmitter for digital data</A>
---
Did you find what you needed?
---
| | |
| --- | --- |
| | Welcome to www.massmind.org! |
.