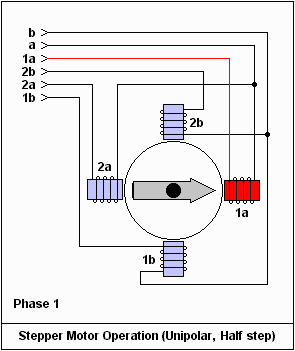 Stepper motors "cog" to a limited number of positions, but a microstepping controller can partially activate adjacent coils so that the rotor rests between positions; so the stepper motor can rotate more smoothly which then reduces vibration and problems with resonance at certain speeds.
Microstepping makes the transition from one position to the next less sharp, so the resonances are not as strongly excited. Kinda like hitting a bell with a soft rubber mallet instead of a hammer.
Linear stepping with the Linistepper or How smooth is smooth?
See also:
---
file: /Techref/io/stepper/microstepping.htm,

1KB,

, updated: 2016/3/21 16:55, local time: 2023/9/30 09:57,
---
©2023 These pages are served without commercial sponsorship. (No popup ads, etc...).Bandwidth abuse increases hosting cost forcing sponsorship or shutdown. This server aggressively defends against automated copying for any reason including offline viewing, duplication, etc... Please respect this requirement and DO NOT RIP THIS SITE. Questions?
<A HREF="http://www.massmind.org/techref/io/stepper/microstepping.htm"> Stepper Motor Driver Microstepping</A>
---
Did you find what you needed?
---
| | |
| --- | --- |
| | Welcome to www.massmind.org! |
.