AOLpress Help

---
Options (Save As... Window)
When you save a page, by default AOLpress saves the HTML code that will be used to display the page on the Web. There are several other ways you can save your pages. Clicking the Options button on the Save As window gives you this list of options: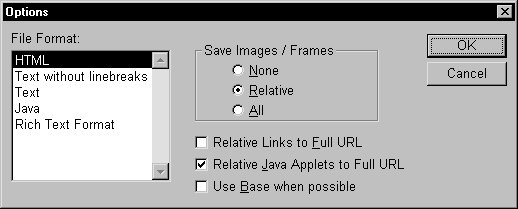 You can choose any of the following file formats:
Text without line breaks: Saves only the text from your page. No formatting is included. Each paragraph is a single line in the text file.
Text: Saves only the text from your page, but includes line breaks to make paragraphs more readable.
Java: Removes all the formatting and saves only the text, which should be Java source code.
Rich Text Format (RTF): Creates a file that you can import into Microsoft Word to retain most of the formatting you used in the page. You can also use this file as input to other software programs that create Microsoft Windows online help files.
(Saving a page as text or RTF doesn't save your Web page formatting. You should save pages you want to keep both as HTML and in any other formats you want to use. When you save in a format other that HTML or Java, the web icon to the left of the Location field stays "broken" to remind you that you haven't saved the page as HTML.)
When you save a page, AOLpress can also save the images along with the page. The Save Images/Frames field controls which images are saved:
None: No images are saved. If you don't want to save the images, but still want them to be visible in the saved page, you should check the Relative Links to Full URL field. The page will display the images from their original locations.
Relative: All the images with relative file references are saved to the same directory as the page.
Uncheck the Relative Java Applets to Full URL field if you are saving the page to a location that already contains the Java applets used in the page.
Check the Use Base when Possible box if you want to continue using relative links in the page but specify that they are relative to the original (base) location instead of the new location. (AOLpress can't use a base location if you are saving the page into an existing MiniWeb or if you are saving a page from your own computer to a server.
---
Help Table of Contents
---
file: /Techref/language/html/HELP/refer/imprtopt.htm,

3KB,

, updated: 1997/3/23 17:30, local time: 2023/12/7 11:53,
---
©2023 These pages are served without commercial sponsorship. (No popup ads, etc...).Bandwidth abuse increases hosting cost forcing sponsorship or shutdown. This server aggressively defends against automated copying for any reason including offline viewing, duplication, etc... Please respect this requirement and DO NOT RIP THIS SITE. Questions?
<A HREF="http://www.massmind.org/techref/language/html/HELP/refer/imprtopt.htm"> Import and Save As Options</A>
---
Did you find what you needed?
---
| | |
| --- | --- |
| | Welcome to www.massmind.org! |
.