AOLpress Help

---
Merge Table Cells

See the tutorial lesson on tables for a hands-on example.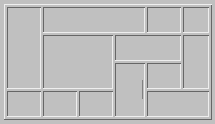 You can merge table cells to create areas that span rows and columns. For example, you could create a table like this one:

To merge table cells:
Note: Merging cells deletes the contents of all the cells you merge, except the contents of the upper-left cell. To keep the contents of the other cells, cut and paste them into the upper-left cell of the set of cells you want to merge then place your cursor in that cell before choosing the Table

Merge Cell menu option.
Choose the Table Merge Cell menu item to see the following window:

Type the number of Columns and Rows the cell should span, and click OK to merge the cells.
If you want to unmerge cells, choose the Table Split Cell menu item. The merged area will be split into the number of columns and rows that were merged. (You cannot split cells unless they have already been merged.)
---
file: /Techref/language/html/HELP/refer/mergcell.htm,

2KB,

, updated: 1997/3/23 18:30, local time: 2023/6/5 09:08,
---
©2023 These pages are served without commercial sponsorship. (No popup ads, etc...).Bandwidth abuse increases hosting cost forcing sponsorship or shutdown. This server aggressively defends against automated copying for any reason including offline viewing, duplication, etc... Please respect this requirement and DO NOT RIP THIS SITE. Questions?
<A HREF="http://www.massmind.org/techref/language/html/HELP/refer/mergcell.htm"> Merge Cell</A>
---
Did you find what you needed?
---
| | |
| --- | --- |
| | Welcome to www.massmind.org! |
.