Absolute reference: A reference that contains all the information needed to find a page. For example, http://www.aolpress.com/index.htm

Anchor: A marker at a point in a page that you want to be able to link to. Linking to an anchor lets you create links that automatically scroll to the position of the anchor in the page.

Browse: When you look at a Web page, you are "browsing" that page, and the software you are using is called a "browser". Another term for browsing Web pages is "surfing". AOLpress is both a browser and an "authoring tool" — because it lets you look at pages and create or change them.

Client: On the Web, the "client" is your own computer. You don't need to understand "client-server computing" to use AOLpress. In case you're curious, a "client" computer is one that sends requests to a "server" computer. The "server" processes the request, and the "client" takes care of showing you the results.

Home page: The first page you want people to see in your set of pages is called the "home page". Other pages are just "pages".

HTML: The language used behind-the-scenes to format Web pages is called HyperText Markup Language (HTML). In the past, people had to learn this language to create Web pages. Now, you can use AOLpress to create pages as easily as you would write a letter using a word processor.

Hypertext: Text that contains links to other information. The links are also called "hyperlinks". Another word for hypertext is "hypermedia", which also includes other media like video and sound.

Image map: An image that is linked to more than one location. When you click on the image, the place where you click determines which link you follow.

Link: A connection from one location to another. When you click on a link, it takes you to the other location.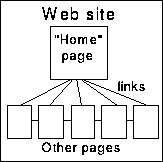 MiniWeb: With AOLpress, you can treat all the pages, images, and other files in a directory as a small version of the Web — called a "MiniWeb". A MiniWeb acts as a "File Manager" for your Web pages. You use MiniWebs to manage your pages and see connections between files.
Page: The documents you see on the Web are called "pages". They contain text, images, and "links" that let you jump to other pages.
Publish: When you make your pages public to other people browsing the Web, you are "publishing" those pages. With AOLpress, publishing is about as easy as saving a file with a word processor.
Relative reference: A reference to a file that skips some information about where the page is located. It lets your browser add this information based on the location of the page you are reading.
Server: The computer that stores the pages you see is called a "Web server". It runs software that knows how to send pages and images to browsers.
Site: All your pages, images, and other files make up your "Web site".
URL: A location on the Web is called a "Uniform Resource Locator" or "URL". You can pronounce this as "you-are-el" or "earl". For example, http://www.mycompany.com/