This page showes you the station with the tanks put in place.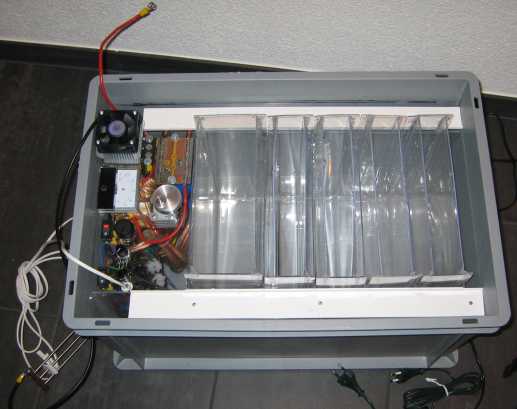 The tanks are simply put into the cells that are formed by the main frame. They are adjusted so as they somehow firmly fit into the cell. That said there is no room for them to swing around or such. The tanks themselfes are made of so called "hobby glass". They mainly consist of a peice that was formed to a "U" shape and then have two sides attached. ATTENTION, the tanks are NOT GLUED. Instead they are welded together using a hot air welding gun. I'm not sure about the propper english terms for this process and gun, so please bear with me if I'm completely off :-). I would apreciate some feedback wether this is described propperly and if not of course how I should describe it.
---
file: /Techref/pcb/plating/tps-tanksinplace.htm,

1KB,

, updated: 2009/10/23 12:33, local time: 2023/9/27 07:33,
---
©2023 These pages are served without commercial sponsorship. (No popup ads, etc...).Bandwidth abuse increases hosting cost forcing sponsorship or shutdown. This server aggressively defends against automated copying for any reason including offline viewing, duplication, etc... Please respect this requirement and DO NOT RIP THIS SITE. Questions?
<A HREF="http://www.massmind.org/techref/pcb/plating/tps-tanksinplace.htm"> Homebrew Through Hole PCB Plating Station - Tanks</A>
---
Did you find what you needed?
---
| | |
| --- | --- |
| | Welcome to www.massmind.org! |
.