Communitary Universal Microcontroller Programmer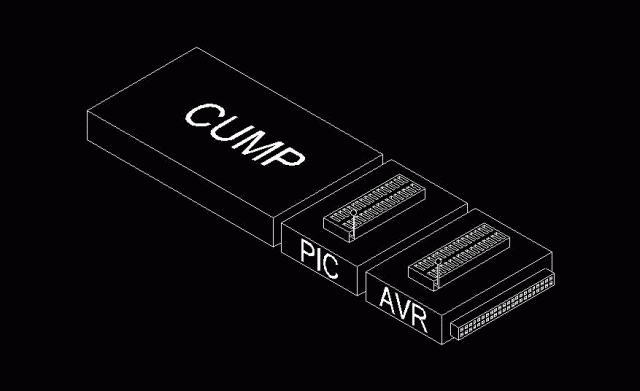 Resolutions
To develop a device programming platform that
Is buildable by beginners
Is inexpensive
Can support new devices via daughter boards
Has an abstracted communications interface, allowing multiple communications standards
Uses a token or byte code to perform the programming process
News
28/08/2003
As should be obvious from the inactivity of both the list and this site, the whole CUMP project is in a bit of a slump right now. I hope it'll get back into the swing of things before too long, but right now there aren't really any signs of that happening.
25/04/2003
Currently, the biggest discussion going is whether the bus should be left with the original parallel configuration or if it would be better to drop that entirely and go for a serial implementation of the CUMP concept.
If the serial implementation is decided upon, then the next question is which serial protocol to use for inter-board communications. Currently, the two contenders seem to be I2C and RS-422.
25/04/2003
I've finally gotten around to reworking this site. It should get a lot better soon. Here are some of the changes that I will be making:
News section
Actually segmenting content onto different pages to ease navigation
Removal of out-of-date content
I'm going to see what I can do about W3C compliance, but I don't know how much I can do about that within the PICList.com framework. Go here for the old page.
Development
---
file: /Techref/piclist/cump/newcump.htm,

2KB,

, updated: 2003/8/28 14:36, local time: 2023/9/21 08:20, owner: BJM-bigfoot-486,
---
©2023 These pages are served without commercial sponsorship. (No popup ads, etc...).Bandwidth abuse increases hosting cost forcing sponsorship or shutdown. This server aggressively defends against automated copying for any reason including offline viewing, duplication, etc... Please respect this requirement and DO NOT RIP THIS SITE. Questions?
<A HREF="http://www.massmind.org/techref/piclist/cump/newcump.htm"> Communitary Universal Microcontroller Programmer</A>
---
Did you find what you needed?
---
| | |
| --- | --- |
| | Welcome to www.massmind.org! |
.