When you create Web sites, you can start out by creating and editing the pages on your own computer. Keep all the files in one directory, or in a directory and its subdirectories. When you are ready to publish your files to a server, this will make it easy to move files without breaking the links between them.

You can also save your pages in several formats other than as Web pages. In the "Save As" window, you can click the Options button to see this window: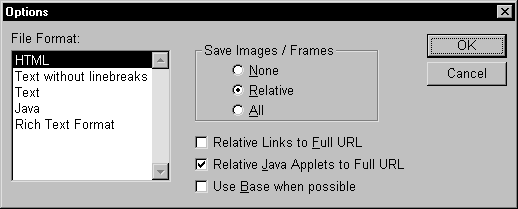 For example, you might want to save a page as ordinary "Text" or in the "Rich Text Format" (so you can import it into Microsoft Word). We'll talk about other options in this window later.
For more information, see the chapter on creating and saving pages

in the AOLpress User's Guide.