Person Sheet
| | |
| --- | --- |
| Name | Elizabeth Ellis 'Lizzie' BLACKSHEAR |
| Birth | 20 Apr 1880 |
| Death | 4 Jan 1978, Pines Nursing Home, Dillon, SC. |
| Burial | 6 Jan 1978, Alloway Cemetery, Dillon, SC. |
| Education | Andrew Female Academy in Randolph County, Georgia |
| Religion | Methodist |
| Father | Perry Linkfield BLACKSHEAR |
| Mother | Oregon Frances BLACKSHEAR (-1911) |

Spouses:

| | |
| --- | --- |
| Marriage | 20 Nov 1898, T. G. Spearman Res. Cuthbert, Ga. |
| | |
| --- | --- |
| Last Modified 31 Mar 1996 | Created 15 Mar 2003 by EasyTree for Windows |
---
Contents * Index * Surnames * Contact
James Newton Says: " Very musically inclined " +
See also:
https://www.ancestry.com/family-tree/person/tree/29232633/person/26005506154/facts Lizzies page on Ancestry.+
James Newton refers to

http://www.powow.com/sandyhodges/genea/BlkshXX/BlkshDG.htm Elizabeth Ellis, b. 20 Apr., 1880, Sumter Co., Ga., dau. of Oregon Frances Blackshear and Perry Linkfield Black- shear, lived at Cnthbert, Cordele, Baxley, and Blakely, Ga. and Red Springs, N. C. and Dillon, S. C. Husband Luther Samuel Newton, b. Marlboro Co., S. C., 17 June, 1874, son of Susan Elinor Covington and Ira L. Potter Newton, m. at the home of Mr. amid Mrs. T. G. Spearman, Cutlibert, Ga., 20 Nov., 1898, (without previous knowledge of her family). Issue No. 1 Ira Luther, b. Cuthbert, Ga., 19 Dec. 1899, d. in infancy, bur. Blackshear lot Eastern Cemetery, Cutlibert. No. 2 Perry Blackshear, b. Marlboro Co., S. C., 2 Nov., 1901. No. 3 Roy, b. Cordele, Ga., 12 Feb., 1904. No. 4 Frances, b. Baxley, Ga., 9 Sept., 1907. No. 5 Celia, b. Blakely, Ga., 8 Oct., 1917. E. E. B. N. was educated at Andrew Female College, Cutlibert, Ga., her m. was not opposed by her family, it was characteristic of her to do things quietly and if necessary," explain afterward. "She was a model mother, nurturing her children in the prin ciples of the Christian Religion, (Methodist), caring for their physical and spiritual needs at home. She was also a devoted wife, ever attentive to the needs of her husband and family. Their family life was singularly happy and serene."
With Perry Blackshear Newton Sr

With Frances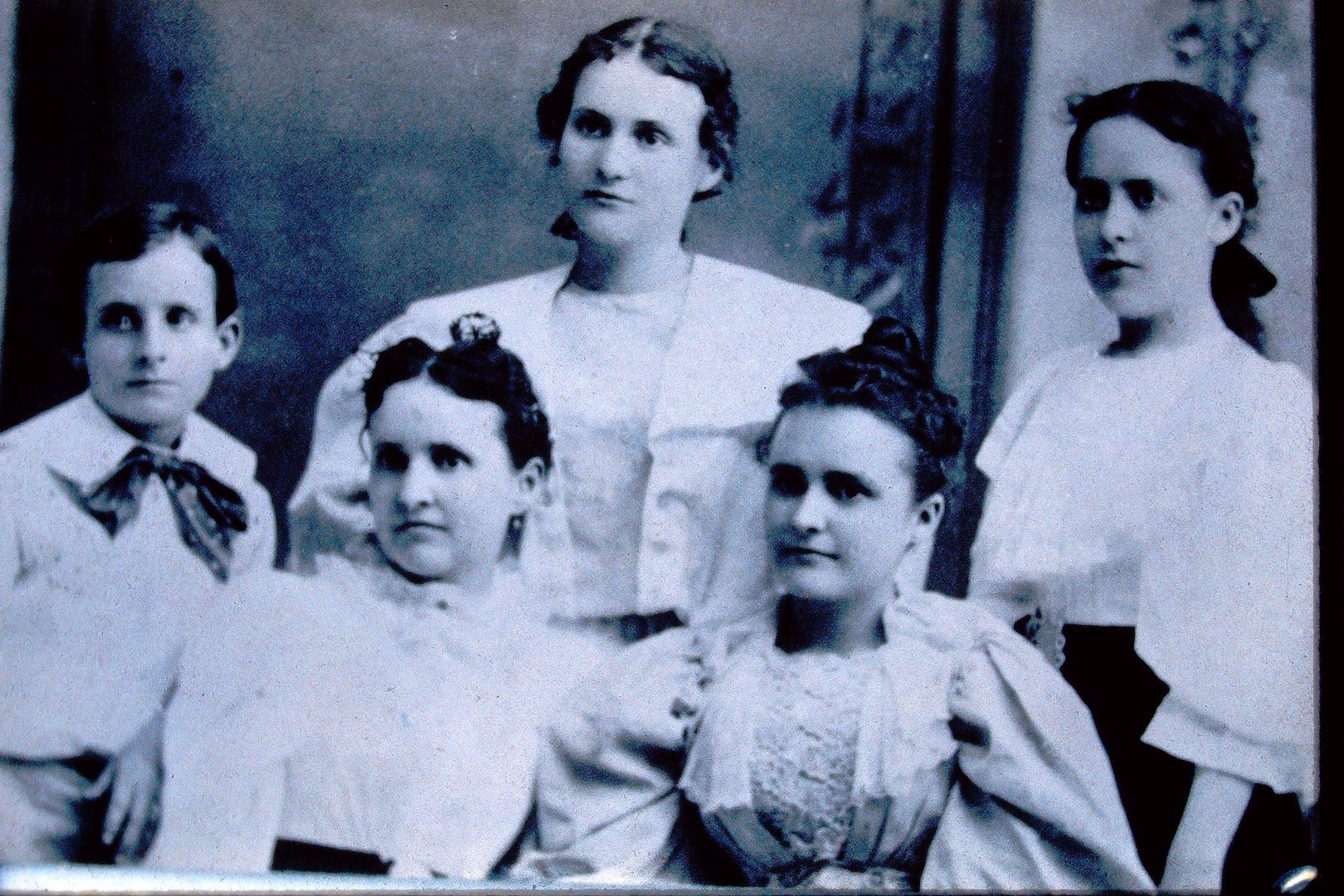 Perry Lynnfield Blackshear, Oregon, Carrie (Carolyn), Elizabeth (Lizzie), and Clara (clockwise from left)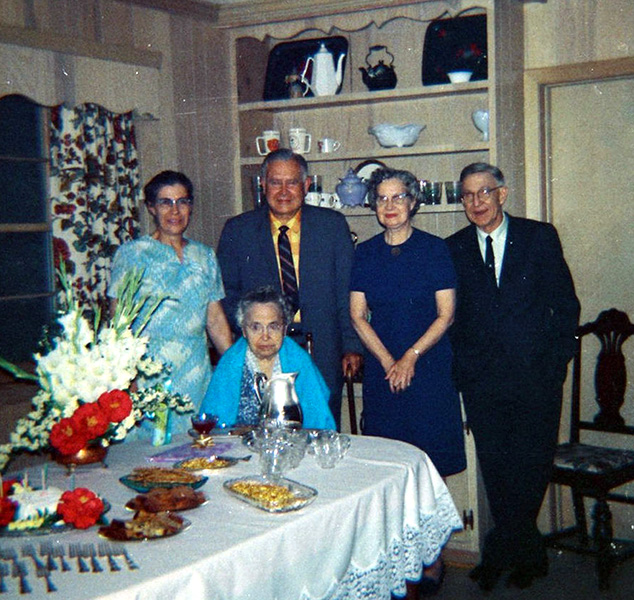 Pictures from the 1969 photo album of Dorothy Newton. The negative was in a sleeve marked "April-May 1969 S. Carolina," The seated person is Elizabeth Ellis Blackshear, Judging from the presence of all four of her children and the fancy table setting, we guess that this picture commemorates her 89th birthday. The standing adults are (left-to-right) Celia, Roy, Frances, and Perry.
See William Carson TOLAR Jr. - Celia Evelyn NEWTON family page for additional pictures.
Attended Flora Macdonald College +
---
file: /Techref/other/newtons/ps01/ps01_019.htm,

8KB,

, updated: 2022/12/27 12:23, local time: 2023/12/7 12:16, owner: GEN-NaA-[AA,
---
©2023 These pages are served without commercial sponsorship. (No popup ads, etc...).Bandwidth abuse increases hosting cost forcing sponsorship or shutdown. This server aggressively defends against automated copying for any reason including offline viewing, duplication, etc... Please respect this requirement and DO NOT RIP THIS SITE. Questions?
<A HREF="http://www.massmind.org/techref/other/newtons/ps01/ps01_019.htm"> Newton Internet Family Tree</A>
---
Did you find what you needed?
---
| | |
| --- | --- |
| | Welcome to www.massmind.org! |
.